Below I will list some places to buy from and I will list pros and cons of them base on my experience with them too.. We will start with the Facebook marketplace first, When I get ready to start to rate them from below. I will rate on customer service. Customer service can make or break a service. If their customer service is bad I stay away from them. Well lets get started
5. Facebook marketplace comes in last on my list because there is no customer service at all. They use bots to resolve marketplace problems. It's impossible to get a human response. Their bots will flag even the smallest problem even if it doesn't exist. For example, I had a hacker that hacked my account and posted something on my Facebook account that got me banned from buying and selling things on Facebook. I have been banned for 3 to 4 months now. I will cut and pasted my log of reviews that I have sent to their support team and the problem has still not been taken care of yet. I had no idea that I even had a hacker posting stuff on my Facebook till I got the banned from fb marketplace too.. I took a small screenshot of my reviews, the whole list goes back to 3 or 4 months ago. See the YouTube video for more details on people who have got banned from Facebook.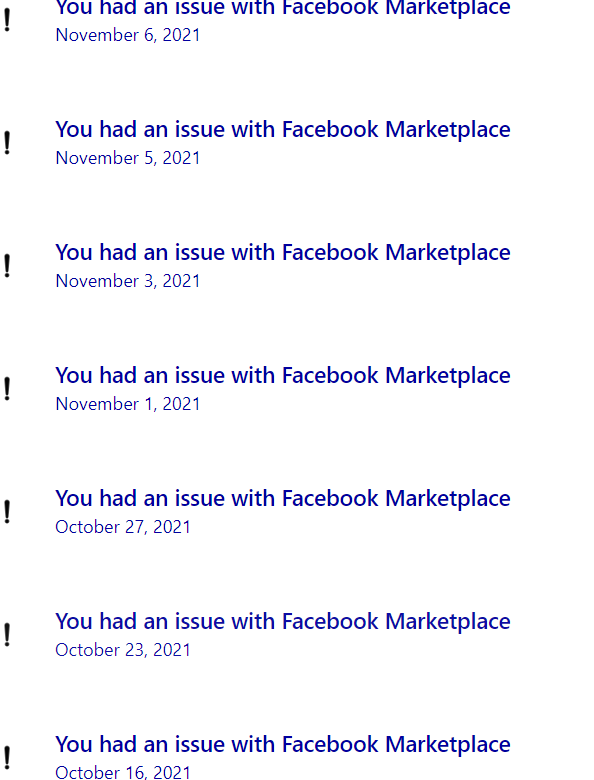 This is it my fb problem now onto another website.
4. eBay are always there to take care of their customers like they should be which is why I gave them a better review then Facebook.. Their customer service is very good. They will take care of your problems asap, and this is how It should be handled too. If a website cares about their customers like they claim to do, Then they should treat them like they do., they have fast speeds on getting you your order of stuff you order too. The cool thing is that you can get some very cool stuff on eBay too.. It makes your online shipping an adventure too. I have never had a problem with eBay too.
One of the only cons is buying something of a seller that might be bad. But you contact customer service they can help out with that problem although. So mostly you will only be out of time and a sour experience with that seller.. So other than that it's really the only cons with shopping on eBay. So onto another store.
3. Amazon has been around a very long time now, and just like eBay you can buy some very nice items on there too. They have great customer service too, I have ordered from them in the past when I had the extra money to do so. But with time being tough I had not recently ordered from them. I will most likely do so once I get my bills paid off although.
Plus amazon now has their own comic book store too, but I have no idea what they call it although so that's a big plus for me also. But that will be covered in a different article at another time although. But that gives them a plus in my opinion although, as I love comic books and other comic books related items.
2. wish Is another website I love for their cheat stuff, You can find just about anything you want to find on their website that you need or want. A con with them although is waiting a long time to get those items, as a lot of their stuff comes from oversea. But if time is not big deal for you then the wish website might be for you then. But If you don't mind the wait and like to get cheaper prices on items then this Is the website for then.
I have been ordering stuff from them for six years now, and I have had no problems from them either. Right now I am waiting for tablet that has 16 gigabytes of ram and has a storage of 640 gigabytes. You won't find a tablet like that anywhere else and you will only find It that cheap on wish app or website. I also have two usb with antennae one for my nephew and me so we can boost our Wi-Fi signal.. Those will be coming any day now too.. I am excited for them to me too be getting them too.. I will provide a link below here for you to sign up if you are interested in using wish too below.
1. Walmart Have one of the tops website to order from. I have order tons of stuff from Walmart and have not been disappointed either by them. Their customer support team are on of the best too. They have a wide selection of items to that you can choice from as well. chances are you will see something you want that you weren't even looking for as well. I know I always find something that I want when I wasn't even looking for it too.
There is always help for you just one call away for anything you order from them. This is why It's my place of choice for buying things on line And if they don't have It wish will most likely have it. Why shuttled back and forth between Walmart and Wish all the times too. Number one and two as being my favorite places to shopped at. And there you have it the five places that I have rated from being the worst to one being the best I hope you all have enjoy my article and find It useful too. This is it for now and enjoyed your day too one last video on walmart.
1 Hour Social Media Plan: The small business owner's guide to increasing sales revenue by up to 30% in as little as 90 days with social media marketing Paperback<Amazon product links>
Affiliate Marketing For Dummies Paperback – Illustrated<Amazon product link>
Selling on Amazon For Dummies 1st Edition<Amazon product link>
eBay Seller And Affiliate Marketer Secrets: How To Sell On eBay, Affiliate Marketing And Make Money: Foreign Affiliate Marketing Guide For Everyone Paperback<Amazon product link>