Well I was going to talked about marvel what if. But this got my attention instead. I speaking of no other then Banner/hulk cousin Jenifer/she-hulk Marvel/Disney are going to give her a show on Disney I couldn't pass up the chance to write about new TV show. After all, she is one of my favorite comic book heroine. I love the fact that she maintains her ability to think in her hulk form. The she-hulk can also control her transformation too at will, unlike Bruce Banner who transforms out of anger. But somehow he managed to learn to to transform into the mindless hulk. Rather Bruce learns to keep his smart brain we will have to wait till later on in the Marvel/Disney world or not. I do so hope that the hulk will be in the movie and TV show as well. After all, Bruce is her cousin after all so I think they should be paired together after all.
And there are plenty of villains to send her way for her to fight. But I would love to see some teams ups with her cousin too. And why stop there, there are plenty of other heroes she can team up with as well. Back in the days Marvel comic had a comic book call Marvel team up. I would love to see Disney bring it back as It was a good comic book too. I will try to find a good trailer for it on YouTube as well. So bear with me as I have not found a video of one yet. But I will keep looking for one. And if there's one out I will find It too. I would love to see hellcat dropping in from time to time as well.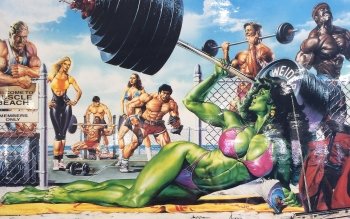 I have a good feeling for the new TV show on Disney+. I think it will be successful as well. I am looking toward to watching the show as well too. I will leave a video talking about she-hulk in my article so you can learn more about she-hulk as well too and hopefully a trailer for the movie as well. But is looking dire on the trailer although as I can't find one where she is the she-hulk and that's what I want to see is her transforming into the she-hulk. But I will keep on looking although. For now, I am done talking about this TV show but first video will talk about the she-hulk. The video below talks about she-hulk and show you her in the movie as well as well as talked about her too.
She-Hulk Epic Collection: Breaking The Fourth Wall Paperback<Amazon product list>
She-Hulk By Rainbow Rowell Vol. 1 (She-hulk, 1) Paperback<Amazon product list>
She-Hulk by Soule & Pulido: The Complete Collection (She-Hulk by Soule & Pulido: The Complete Collection, 1) Paperback<amazon product list>